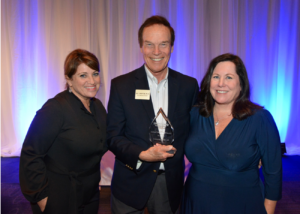 Recently Cricket Elliot–pictured above on my right–invited me to attend the annual awards luncheon for Explore Gwinnett (marketing brand for the Gwinnett Convention and Visitors Bureau). I accepted enthusiastically because of my seventeen year affiliation with the organization, presenting communication seminars every few months. As Tourism Education Director, Cricket has hosted my presentations many times.
The elegant event took place in the Infinite Energy Center in Duluth, Georgia, next to the building that houses Explore Gwinnett.
When guests finished dining, the awards ceremony began. As Cricket began reading an award citation, I thought "Gosh, that sounds like some of the things I have done."

THE AWARD CITATION
Here's the citation Cricket read in announcing my "Friend of Gwinnett Tourism" award:
She first said:
This person has been a true supporter of Explore Gwinnett. He always has shout-outs for us on his channel, Facebook and wherever he is. He has sent the GTEP program so many valuable speakers and is always a top professional in his presentations. His passion to see others succeed is why this man will remain at the top of his game for a long time to come. He is a delight to work with and his positive attitude is ever present.

Then she added: "And Sandra would be very proud of you."
That was the unmistakable clue that the citation referred to me. My wife Sandra had transitioned to her celestial home on October 5. Just a few months before that, not only did Sandra attend one of my Explore Gwinnett seminars, she participated in a role playing session with me. Cricket and the seminar participants welcomed her lively involvement.
Cricket's next words:
To my amazement, Cricket called my name, and I went to the stage to accept the award from her and Lisa Anders, Executive Director of Explore Gwinnett. You'll see Lisa on my left in the photo.
MY GRATITUDE
As you can imagine, not only was I surprised I was very thankful for this honor. Serving Explore Gwinnett has been a grand privilege, and I am eager to host new communication training seminars in the new year.
CALL ME TODAY!
First, visit my Web site, to review my services for corporations and leaders:
https://bizcommunicationguy.com
Call me today to tell me about your company's communication problems, and we'll discuss how I will help you solve them, through my keynote speeches, seminars, coaching and consulting.
Call 678-316-4300
The "Biz Communication Guy" will be eager to meet your needs, as I have done consistently with Explore Gwinnett.