Dianna Booher has earned a stellar reputation as a keynote speaker, business consultant and executive presence coach. And let's note, too, her prolific writing career. Her most recent publication–Faster, Fewer, Better E-Mails–is her 48th book.
In the video above, I interview Dianna about the e-mail recommendations her book provides. You and your colleagues will want to listen to her advice, which will help you "manage the volume, reduce the stress and love the results," as the subtitle says.
The book release is set for June 18. However, you can order prior to the publication date through Amazon or Barnes and Noble.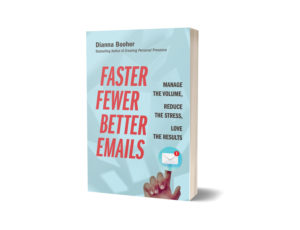 Again, I encourage you and your business associates to watch this lively, informative interview. Suggestion: Show it during a staff meeting, and then discuss how you will implement Booher's e-mail approach.
SUBSCRIBE TO MY YOU TUBE CHANNEL
My interview with Dianna Booher reflects the valuable information you will have access to when you subscribe to my YouTube channel, where I display more than 400 instructional videos.
To subscribe, go to YouTube and find my channel:
Bill Lampton, Ph.D.
Hit the subscribe button, and you will have access to my many video tips on all facets of business communication.

CALL ME
To discuss how my services will benefit your company and you, please call me for a complimentary initial conversation.

Call 678-316-4300